Evelyne Boren (a native of Munich, Germany) enjoys worldwide recognition for her impressionistic interpretations of life, people and scenes of the Southwest, Mexico and Europe in watercolor and oil paintings.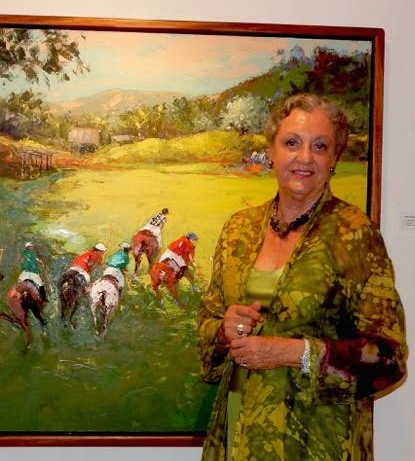 Evelyne's life reads like an adventure story.
Before beginning her full-time professional career as an artist, Evelyne had an aquatic career that included underwater stunt doubling in the James Bond films "Thunderball" and "You Only Live Twice".
She was the first woman in the world to swim with a killer whale in the movie "Namu the Killer Whale". While a stuntwoman, she went on "What's My Line" and "To Tell The Truth", where no one was able to guess her profession. She also appeared frequently in the television series "Sea Hunt", "Aquanauts" and "Flipper" where she helped train the star dolphin.
From these adventures she turned to painting in 1962, while filming on location in the Bahamas. The breathtaking color and beauty of the islands stirred a deep desire within Evelyne to express her feelings through art.
Her enthusiasm, drive and discipline have resulted in a very successful art career. Evelyne has studied with several important artists, but has developed a style that is strictly her own.
In 1990, Evelyne entered a competition in Roussillon, France, for paintings that used only burnt sienna, raw sienna and yellow ocher pigments that are mined locally. The only foreigner in the competition, she won first prize ahead of forty other French artists.
She has more than 4,000 original paintings in private and corporate collections around the world.
Evelyne maintains permanent studios in Santa Fe, New México and Sayulita, México.
Showing 49–64 of 295 results