"I am looking for a painting which paints itself, where I am following, not leading. For me, painting is a dance – improvisational, free flowing, ever changing. The way I paint is the way nature feels to me – a reflection of what I hear and feel when I'm lost in the act of creation. 
I would like my viewer to feel as if they are standing right there with me. To feel the space, the sunlight, the wind. And at the same time, to take in the process with which the paint was laid down.
There is something deeper behind what I see – a feeling, a search for raw, unfinished, organic beauty like nature herself. If I can catch a glimpse of this, the painting is complete. " – Robert E. Reynolds (R.E.Reynolds)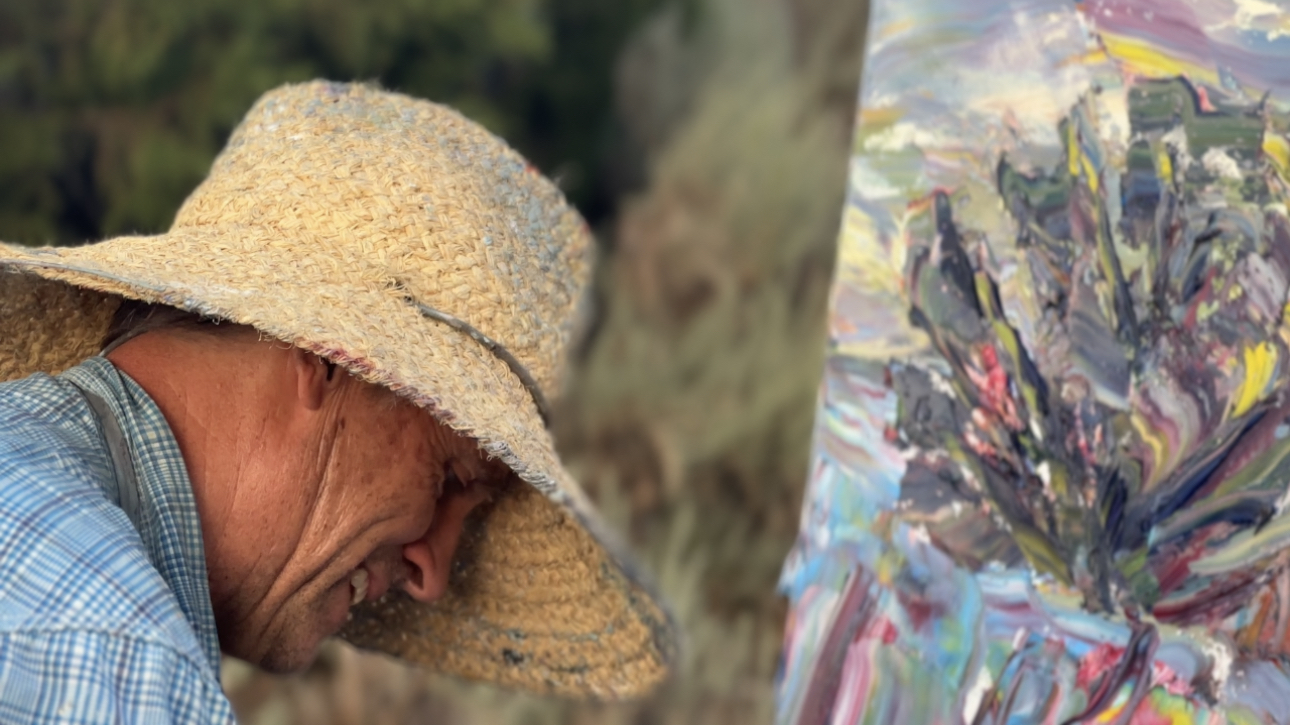 Robert Edward Reynolds (R.E. Reynolds) paints the West with dramatic palette-knife strokes and luscious color. Described by Southwest Art as "tactile," "juicy," and "energetic," Reynolds' vivid landscapes feel gestural, immediate, and expansive.
Represented by Acosta-Strong in Santa Fe, the Colorado born, New Mexico based Reynolds exhibits at the gallery's annual Tres Pintores exhibition and is gearing up for his next solo show in 2023. November 2022 marked his first appearance at the Mountain Oyster Club Contemporary Western Art Show and Sale in Tucson.
Reynolds was named an Artist to Watch by Southwest Art, and has also been featured in the Santa Fean and Western Art Collector. He holds an MFA from Santiniketan University in India and a BFA from Colorado State University.
Inspired by the wide open vistas, and mix of Native American and Spanish cultures, he, his wife, Malabika, and their 14-year-old son, made their home 50 miles north west of Santa Fe amid at the pinion-covered hills and arroyos he has come to love.
He has a passion for the landscapes of the Southwest and enjoys taking his oils to sites along the River Chama, Vallecitos, or the Gorge of the Rio Grande to capture their rugged beauty through seasonal change. He paints most often en Plein Air, preferring to capture the natural light in his art.
"I hope to convey a sense of my passion for the landscape, the feeling of sunshine, the wind and the energy that fills the earth, the sky and me. I find it beautiful, powerful and mysterious – In this way painting becomes a way to try to understand the magic of the landscape" – Robert E Reynolds. (R.E. Reynolds)
Robert was featured in Southwest Art magazine (August 2015) as an Artist to Watch. The Editors' choice for up and coming talent.
Showing 1–16 of 258 results