🔍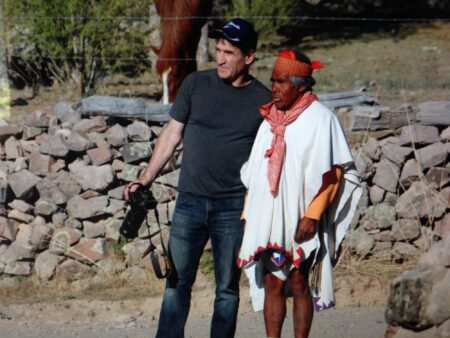 Bill Baker Biography
Bill Baker discovered his love for creating art while working as a carpenter in New York City. Frequent visits to the city's great museums eventually inspired him to enroll in art classes at Dutchess County Community College in Poughkeepsie. After a year of study, Baker left New York, deciding that travel and the experiences gained would be far more rewarding than formal art education. Accompanied by his camera and sketchbooks, he began a quest to experience firsthand the world's indigenous people and to record their cultures and traditions in exquisite and poignant pastel works of art.
Over the past 32 years, Baker has traveled to over 50 countries and has spent significant time in remote villages all over the globe, living and getting to know these indigenous people and their ways. He has photographed and painted native cultures from South America, India, Tibet, Mongolia ,and Africa, but it's his paintings of Northern Mexico's Tarahumara Indians that have brought him national and global acclaim. It's important to note that many places that were once difficult to reach are now easily accessible through paved roads and highways. Baker is all too aware that he's in a race against time to capture these native people and places before they're gone forever.
Baker's beautiful renditions have become historical documentation of cultures others will never experience. Celebrated for his large-scale paintings, his mosaic technique, his magisterial use of light and shadow, his fearless use of color, and his laser sharp attention to detail is both powerful and masterful. Every thread of fabric in the traditional clothing worn by its subjects, every strand of embroidery, is recorded as if each is intricately connected to the person and their story. Baker's paintings capture the authentic rhythms of these people's daily lives, as they exist in perfect harmony with their natal surroundings – each moment, each detail perfectly rendered and vibrating with emotion and life.
Baker is the recipient of countless awards. His work has been profiled in various publications and inducted into public and private collections across the globe. He is a permanently featured exhibitor at Acosta Strong Gallery in Santa Fe, NM and Michael McCormick Gallery in Taos. Two of his larger pieces are part of the permanent collection at the Albuquerque International Airport.