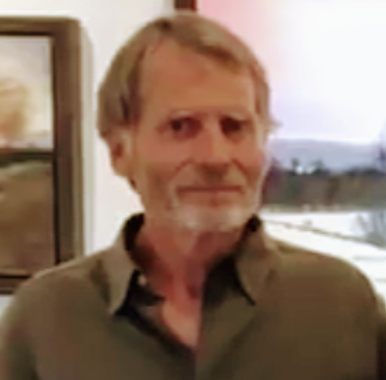 Born in Manhattan, Kansas, Tatom began his formal art training at the University of Utah from which he obtained a B.F.A. in 1972 on a full merit scholarship. From there, he studied at the Kansas City Art Institute from 1973 – 1976.
Kirk Tatom was one of the foremost carvers of stone in Santa Fe for nearly 20 years. Tatom's success in sculpture was his unique ability to create unquestionably
original abstract avian forms.
In 1997 he put down the chisel and picked up the paint brush. And he's again become successful. He's noted for painting the lush green fields and farms of this country. Tatom gravitates towards the rural where he often finds animals: cows, horses and sheep. In the beginning he strongly identified what he thought of as a "useful" landscape, rich with agricultural resources.
Preparation of the panel requires just the right placing of texture exactly where it belongs. The surface may be sanded, scraped, polished, scored then washed, stained, and glazed, then comes the march of the elements of landscape; a boat, a vineyard, trees, animals. He often has as many as ten paintings in the works at one time. Unlike most painters he starts a group of paintings at one time and finishes them all at the same time.
Just as Tatom pays great attention to the craft of his landscape paintings, he heightens their impact with exquisitely hand carved, gold leafed frames built by his father and brother.
Showing 1–16 of 20 results