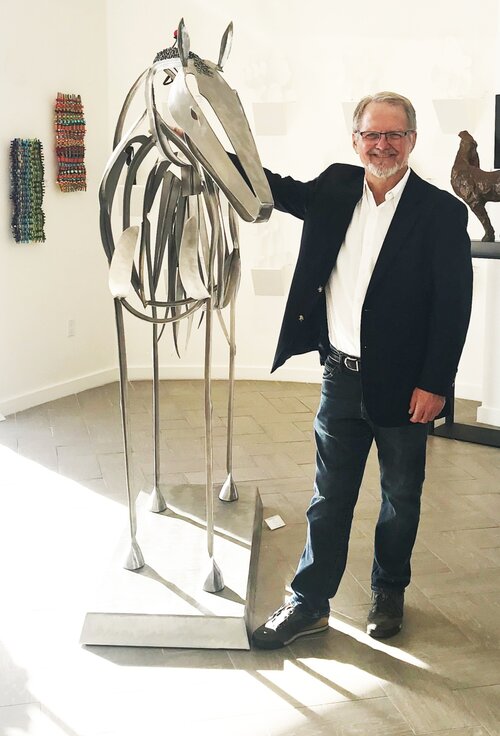 Al Glann grew up on a family farm in central Ohio. A graduate of the Columbus College of Art & Design in Columbus, OH, he worked for many years as a commercial designer, illustrator and college professor. During this time, he discovered his preferred modes of artistic expression – sculpture and painting, in particular composite relief, casting, wire sculpture, wood and metal.
In 1996, Al relocated to Phoenix, AZ where he continued to teach and explore his sculptural style. In 2001, he received a Masters of Education from Northern Arizona University. Balancing life as an instructor of graphic design at the Art Institute of Phoenix, he forged a career as a sculptor in steel and bronze.
In 2010, Al retired from teaching and moved his sculpture and painting studio to the Metal Arts Village in Tucson. Since that time, he has shown his work throughout the U.S. and has pieces in England, Canada, Amsterdam and Italy. Al is represented by The Lanning Gallery in Sedona, AZ; CODA Gallery in Palm Desert, CA; Madaras Gallery in Tucson, AZ; Mirada Gallery in Indian Hills, CO; Casa De Tosoro Gallery in Tubac, AZ; and New Editions Gallery in Lexington, KY.
Showing 1–16 of 20 results